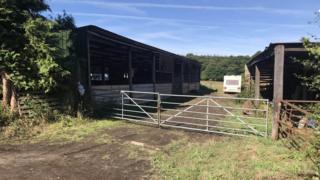 A farmer whose body was found in a field may have been trampled to death by his cattle, Sussex Police said.
Police were called about 22:30 BST on Friday to Pinstraw Farm in Eridge Road, Groombridge, amid concerns Stephen Sandy had not returned from feeding his livestock.
The 64-year-old's body was found in a field with his cattle and he died at the scene,
Mr Sandy's partner, Christine, said a bull was destroyed by police.
She told the BBC Mr Sandy had been due to collect her from the station, but failed to turn up.
When she got home she went to look for him and found him on the ground in the field with the cows and a nine-year-old bull which had been born and raised on the farm, she said.
The bull was snorting and stamping and it was not safe to get close to Mr Sandy, she added.